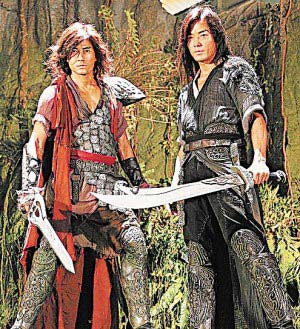 From monkeypeaches.com:
"A press conference held yesterday in Hong Kong marks the beginning of the principle shooting of The Storm Riders II. The original The Storm Riders, released 10 years ago, was based on popular Hong Kong comic series Wind Cloud. The story fellows two young warriors, Striding Wind and Whispering Cloud, turning against an evil warlord, who is becoming too invincible to be defeated. Aaron Kwok (Striding Cloud) and Ekin Cheng (Whispering Wind) return for the sequel. Other cast members include Nicholas Tse (as a villain), Charlene Choi, Tang Yan (replacing Shu Qi as Muse) and Simon Yam. The sequel is directed by the Pang Brothers, Danny and Oxide (The Eye). The costumes are designed by Yee Chung-Man (Curse of the Golden Flower). The entire movie will be shot in front of bluescreen, with CG sets and special effects."
The first film is one of my favorites — and hopefully this sequel will be better than the haphazard amalgam of scenes from the Taiwanese TV series that was released on DVD as "Wind & Cloud: Storm Riders 2".